DOMINO'S: POTHOLES AND PIZZA
I didn't think I'd ever see it. But that's why it went so viral...
Growing Viral is a weekly newsletter that breaks down billion-dollar marketing strategies and shows you how to implement them.
Join all the other entrepreneurs, business owners and marketing professionals that receive it directly in their inbox every Sunday - it costs $0.
---
Yep.
You saw that right.
Dominos - the pizza company.
Paving roads.
If this is the first time you're seeing this. There must be so many questions circulating your head.
What? Where? Why?
All will be answered in this breakdown of Domino's Guerrilla marketing strategies.
Company Overview
Market Cap: $18.14 Billion (Source)
Revenue: $4.12 Billion in 2020 (Source)
Domino's is an American multinational pizza restaurant chain founded in 1960. As of 2018, Domino's had approximately 15,000 stores, with 5,649 in the U.S., 1,232 in India, and 1,094 in the U.K. They have stores in over 83 countries and 5,701 cities worldwide.
Breaking Down The Strategy
Back to the question that has us all puzzled.
Why is Domino's Pizza paving roads?
The campaign started in June 2018 when Domino's announced it would help a handful of American cities and towns fix some of their chronic pothole problems: "We don't want to lose any great-tasting pizza to a pothole, ruining a wonderful meal," a press release explained.
In the "Paving for Pizza" program - as it was coined, Domino's handed over cash to municipalities across America. Cities then arranged for workers to repair cracks and potholes, and a Domino's logo was then spray-painted onto the newly smoothed streets. (See below)
Let's be honest with ourselves, Domino's wasn't trying to expand their services into the world of urban renewal. In fact, Domino's got a lot more from the campaign than you probably realise:
Exposure - Quite simply, no one expected to see the Domino's logo all over the roads they drive on. So when they did it caused a huge buzz around the company. In fact, the campaign had 35,000 organic mentions on social media; in the first week alone. (Source) The stunt quickly garnered the attention of mainstream media and even ended up being featured in USA Today, NBC's "Today" show, "The Late Late Show with James Corden," Bloomberg, and the Washington Post.

Brand image - People are passionate about potholes. Through Domino's solving a problem their customers care about, it allowed Domino's to develop a closer connection with their consumers. Domino's director of PR, Fouracre-Petko even said "What was interesting on social media was that this program sparked a lot of viral discussions about potholes and road repairs; people are very passionate about potholes."
The campaign did so well that Domino's drastically upsized the effort, refusing to let easy viral advertising go to waste. They ended up filling in potholes in every state of the US and continue to do so till this day.
You can now see the project's progress on www.pavingforpizza.com. The red identifies where they have filled pot holes - yes every state is red.
The project wasn't all about people seeing Domino's paving the potholes. They also followed up the campaign with awesome social content (see below tweet).

Don't let a pothole ruin your perfectly good pizza. Know of a pothole that should be filled in your town? Tell us about it at
pavingforpizza.com
and we could provide funding to fix it.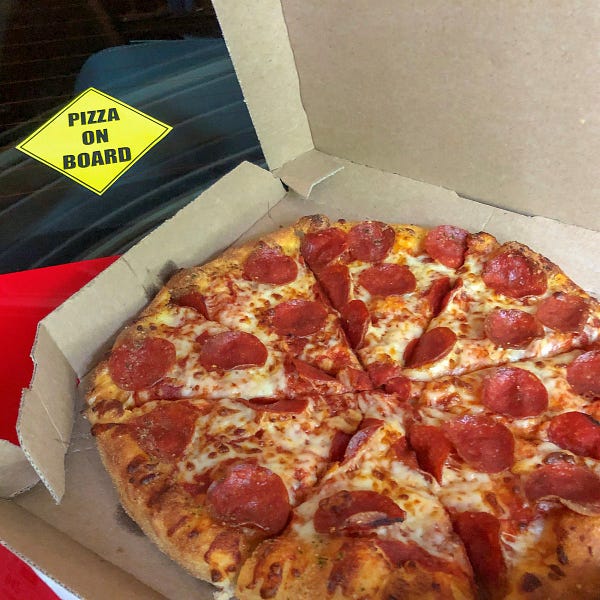 All in all the 'Paving for Pizza' was the perfect execution of guerrilla marketing. It had it all: creative, productive, stood out and had a huge reaction on social media.
Domino's aren't the only company to nail a guerrilla marketing campaign. I couldn't write the article without giving these campaigns an honorary mention.
KitKat - You can't not love this one. The chocolate brand uses the famous design of its products, in the form of bars, including the famous red paper.
The Sopranos - It's obvious that this one was going to grab peoples attention. For this campaign, several cabs roamed the streets of New York with realistic plastic arms coming out of the trunk. Is there a better way of promoting a show about a mafia family?
IKEA - Been on your feet all day? Take a seat… on an IKEA couch. Yes, IKEA decorated public spaces with lamps, tables, and rugs, promoting the comfort of its products.
King Kong 3D - Who wouldn't be shocked to see huge footprints on the beach? Not to mention the crushed car. An awesome way to bring attention to the film.
Polo Mints - Ever woke up to a big Polo mint on your car? Me neither. However, the mint would definitely be getting talked about if I did!
The Lesson
The biggest thing to learn from this is that there are so many great and creative ways to promote your brand and product - without spending huge amounts of money.
When marketing in 2021, it's very easy to get caught up in the idea that the best way to advertise is online. In reality, the campaigns that go mega-viral are ones that happened in real life - but are talked about online.
So stop trying to think of ways you can pay to get your brand in front of more eyes. Instead, think of campaigns that are so great people want to go online and tell everyone. That's when you know you truly nailed a marketing campaign.
How You Can Implement It
The best bit about guerrilla marketing is that you don't need a huge budget for it to be effective. All you need is an exceptionally creative idea.
Things to consider:
What would catch your attention? - A simple sticker on a lampost probably wouldn't catch your eye. However, if you saw a Polo mint snow sculpture on your car it would be on your mind all day. Just think of all the people you'd be telling after it happened.

Accompanying it with a social campaign - Just because your campaign happens local, it doesn't mean it can't be global. Social media allows you to access the whole world, so take advantage of it. Maybe try including a hashtag with the campaign that way you can see and keep track of the effect it has on socials.

Get the ball rolling - Begin building the momentum yourself. Have your team take photos of the campaign and post them on their socials and use the hashtag. People may even talk about the campaign without even seeing it. I actually first saw the Polo mint campaign from someone who posted on LinkedIn.
Oh, and if you do create an awesome guerrilla marketing campaign, be sure to let me know - I'd love to see them!
This has been a breakdown of Domino's guerrilla marketing strategy. I hope you have learned something and can implement a similar strategy into your business!
Don't forget to subscribe to get next week's breakdown straight to your inbox!
I'll see you next Sunday!